8th Issue – March 2021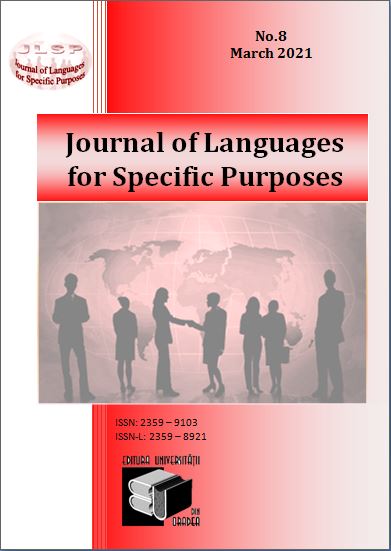 Full volume of The Journal of Languages for Specific Purposes (JLSP) – 8th Issue – March 2021
Title: GAMIFICATION IN LANGUAGES FOR MEDICAL AND HEALTHCARE PURPOSES CLASSES:THE OUTCOMES OF A EUROPEAN SURVEY
Author(s): Timea Németh, Alexandra Csongor, Erika Marek, Gabriella Hild
Abstract:  Gamification techniques have long been applied by the business and marketing world to encourage explicit behaviours and increase customers' incentive and commitment. However, in the past ten years in education, especially in language teaching and learning the benefits of this technique have also been realized as it provides an alternative to engage and motivate students in the classroom. The motivation and involvement of today's digital generation can easily be increased by the integration of various digital tools and applications providing further opportunities for students to collaborate and communicate as well as to obtain extra scores, which can later be turned into grades or even exam grades. This methodology and pedagogy assist language teachers in finding the balance between achieving their teaching goals and meeting students' needs. Therefore, in education today it is crucial to be resilient and flexible and be able to modify and adopt instructional methods and activities in order to meet the needs of the digital generation, and be ready to respond instantly to emergencies, or global pandemics, as it was and still is the case with COVID-19. The present paper aims to provide an insight into an international research that was carried out in the spring of 2019 involving 547 medical and healthcare students from seven European Higher Education institutions. The goal of the study was to gain some understanding of the use of gamification techniques applied in Languages for Medical and Healthcare Purposes (LMHP) classes as well as to shed light on students' attitude towards its use. As the results suggest, gamification tools are highly applied in medical and healthcare education across Europe, and gamifying LMHP classes contributes to students' motivation, provides them with a genuine sense of achievement and enhances their communication and collaboration skills. The authors conclude that the success of gamification lies in making the learning experience engaging and interactive, irrelevant of weather we are applying this methodology during face to face classes or online sessions due to COVID-19.
Keywords: Languages for Medical and Healthcare Purposes (LMPH); gamification; motivation; collaboration; communication skills; COVID-19.
Pagination: 7-23
Title: INTERNATIONAL STUDENTS AND LANGUAGES FOR SPECIFIC PURPOSES: THE RESULTS OF A STUDY ON INTERNATIONAL STUDENTS' PERCEPTIONS OF TEACHING AND LEARNING LSP
Author(s): Anna Dávidovics, Timea Németh
Abstract: The number of international students enrolled in higher education worldwide has increased significantly in the past few decades, as one of the effects of globalization, as OECD statistics reveal (OECD, 2018). After finishing secondary education, many students decide to take the opportunity provided by their countries and foreign universities and enrol in the tertiary education system far away from their homes. Inevitably, this leads to numerous intercultural challenges teachers have to face nowadays in culturally diverse classrooms. It is important to note, however, that the particular issues and objectives arising in multicultural and multinational groups tend to differ between the various stages of education. The aim of this paper is to demonstrate the findings of the first phase of a longitudinal research study conducted at the Medical School of the University of Pécs, Hungary, throughout the spring semester of the academic year 2018/19. The primary goal of the study is to collect, assess and evaluate the specific teaching methods and attitudes multicultural students deem most effective while studying Languages for Specific Purposes, and make suggestions for their application in multicultural classroom settings. An online questionnaire was filled out by 133 international medical students, who were attending Hungarian for Medical Purposes (HMP) courses at the time of the survey. The results suggest that, in many cases, their needs and requirements are quite similar, regardless of the differences between their cultural background and national heritage. They prefer sitting and working in groups, collaborating rather than competing, writing tests instead of taking an oral exam, and the majority would like to have online access to the course materials. They also, almost unanimously, indicate a strong preference for using their gadgets and devices during classes, and even for homework and individual practice. These findings imply that, no matter the country of origin, international students have shared views and preferences on the methods they find most effective for their learning, which assists teachers in tailoring their classes to their needs and requirements.
Keywords: international students; multicultural student groups, perceptions of teaching and learning; languages for specific purposes, Hungarian for medical purposes.
Pagination: 25-34
Title: THE PRAGMATIC COMPETENCE IN MACEDONIAN LEARNERS OF GERMAN –  AN INTERCULTURAL STUDY ON THE EXAMPLE OF SPEECH ACT REQUEST
Author(s): Biljana Ivanovska, Marija Kusevska
Abstract: The study presented in this article is a part of the project "The role of explicit Instruction in developing pragmatic competence in English and German as foreign languages", carried out at the "Goce Delčev" University in Štip, R. North Macedonia. It is an interlanguage study of how the Macedonian students of German formulate the speech act request with respect to strategy use, speech act modification and speech act perspective. Additionally, it compares non-native speaker to native speaker requests and investigates what makes non-native speaker requests sound inappropriate. Special focus is also placed on how Macedonian learners of German use the politeness marker 'bitte' in comparison to German native speakers. The importance of this study for the Macedonian linguistic environment is twofold. First, it contributes to the enlargement of the pool of cross-cultural and interlanguage studies in pragmatics in the Republic of North Macedonia. Second, it provides for evidence-based approach to German language learning in general, and in Macedonia in particular. The classification of the request strategies is based on Blum-Kulka (1982) and House & Kasper (1989). The results show that although there is some correlation in the way requests are formulated by the two groups, the requests of the Macedonian learners of German show some deviations. This analysis shows that intermediate learners of German in the Republic of North Macedonia prefer conventional indirect strategies for formulating requests. However, most of them use a limited number of expressions. They use different types of modifications in order to sound polite, but very often there is not a big difference between the expressions they use in formal and informal situations. This indicates that they need more exposure to various situations and more practice of request strategies with respect to different interlocutors. The native speakers' requests are more formal and thus sound more polite. Macedonian learners give more elaborate background information, their explanations and justifications are longer, and the politeness marker 'bitte' is not always appropriately used. They found it as an important feature which adds courteousness to the utterance and they use it too often because they do not want to sound impolite and think that its omission can lead to a completely impolite sentence. They also use expressions oriented to the listener more often, while the expressions from a common perspective are very rare. There is a lack of valid standards, materials and hardly any curricula that place a focus on developing communicative and pragmatic skills in foreign language learners in the Republic of North Macedonia, and there is a significant need for effective ways of improving learners' communication and pragmatic skills. The aim of our paper is to fulfill this gap.
Keywords: interlanguage; pragmatic competence; requests; strategies; modification.
Pagination: 35-51
Title: PERSONAL PRONOUNS IN CLASSROOM: A CORPUS-BASED STUDY OF I, WE AND YOU IN UNIVERSITY LECTURES ACROSS DISCIPLINES
Author(s): Osei Yaw Akoto, Juliet Oppong-Asare Ansah, Emmanuel Antwi Fordjour
Abstract: Academic disciplines have varied attitudes towards the use of pronominal resources in both written and spoken genres. But most of the studies that seek to reveal these disciplinary peculiarities are largely grounded on written texts. In recent times, however, studies have been conducted using spoken texts such as university lecture, which is regarded the key classroom genre, to support this kind of scholarship. These studies either focus on disciplinary or intercultural variations in the use of pronominal resources. The studies on disciplinary variation are largely from individual disciplines to reveal such disciplines' attitudes towards the use of personal pronouns particularly I, we and you (tri-PP). While these studies provide sufficient evidence about the use of these pronouns in academic lectures within individual disciplines, little is known about their use across disciplinary supercommunities (DSs): Humanity (HS), Social (SS) and Natural (NS) Sciences. Thus, this corpus-based study investigated the use of the tri-PP in academic lectures from Ghanaian public universities to ascertain how the norms, conventions, and epistemologies of the broad disciplinary classifications influence their use. Antconc, a corpus analysis software, was used to search for the occurrences of the tri-PP and their variants across the three subcorpora. The comparisons relied on frequency counts of the tri-PP nominalized per 10, 000 words (ptw), given that the subcorpora from the three DSs had different sizes. The frequency counts were supported by log-likelihood tests to establish significant differences across the DSs. The study found that, in total, NS employed more use of the tri-PP than HS and SS, suggesting a high pronominal density in NS's lectures. Furthermore, I, we and you were more frequent in NS lectures than in HS and SS lectures. This indicates that NS lectures have a high degree of lecturer visibility and lecturer-student interaction more than the HS and SS ones. The findings suggest a change in attitude of the DSs towards discourse-internal interaction, engagement and voice. The study has implications for the scholarship on the pragmatics of personal pronouns, disciplinary variation and interaction in discourse.
Keywords: personal pronouns; corpus-based; disciplines; university lectures; frequency; lectures.
Pagination: 53-66
Title: LA CARTOGRAPHIE MENTALE DANS LES LANGUES ÉTRANGÈRES SUR OBJECTIFS SPÉCIFIQUES : ÉTUDE DE CAS SUR LE FRANÇAIS DES AFFAIRES
English Title: MENTAL MAPPING IN FOREIGN LANGUAGES ON SPECIFIC OBJECTIVES: A CASE STUDY ON BUSINESS FRENCH

Author(s): Felicia Constantin, Carmen Avram
Abstract:
The influx of information makes it more and more difficult to learn. The use of tools that could optimize intellectual activity therefore becomes a necessity. Mental mapping or the graphic representation of information is an instrument used in scientific research, in professional fields that involve project management, but also in the field of personal development; its main role is to illustrate communication, organize information or optimize analyses. Despite its proven utility for learning, there are only isolated attempts to introduce mind mapping into university economics education. Economics students use it especially at the end of their initial training, in the professional environment, using specific software. Our article reports on experimental work carried out in a faculty of economics, in business French class. This work aimed at the graphic representation of the definition of a notion of economic vocabulary, by students in the second year of study. The business French course is not intended for training in mind mapping, but it can use it. The students' productions are rather hybrids between mind maps and concept maps, and they keep the main elements: nodes, links or qualified relations. They are improvable, but the results obtained give us confidence that concept mapping may well prove to be an effective technique to help students move from mainly rote learning to predominantly meaningful learning. Mind mapping has a positive effect on the organization and retention of information in foreign languages ​​for specific purposes, being at the same time a lexical inventory and an information exploitation tool.
Keywords: mind map; conceptual map; mental mapping; foreign languages for specific purposes; French Business.
Pagination: 67-78
Title: KINDER- UND JUGENDLITERATUR NACH SPRACHWISSENSCHAFTLICHEN KRITERIEN. ÜBERLEGUNGEN ZU EINER INTERDISZIPLINÄREN GERMANISTIK
English Title: CHILDREN AND YOUNG ADULT LITERATURE FROM A LINGUISTIC PERSPECTIVE. CONSIDERATIONS ON INTERDISCIPLINARY GERMAN STUDIES
Author(s): Anita Andrea Széll
Abstract: The present contribution is an excursus on the origins and effects of teaching with interdisciplinary intent. The research questions arose during the author's own curricular activity at the German Studies Department of Cluj-Napoca and they relate to the possibility of interdisciplinary work within the curricular activity of the lectures in linguistics and children and youth literature. The role of fairy tales, comics and picture stories in linguistics is examined just as closely as the possibility of processing children and youth literature according to linguistic criteria in the classroom. Concrete examples will be used to explain how the characteristics of the structure and specific features of fairy tales and comic texts can ensure uncomplicated work with grammar while, at the same time, offering students a subtle linguistic and technical basic knowledge, and how the German-Romanian and German-Hungarian contrastive analysis of grammatical terms aim at an optimal consolidation of terms.
Keywords: Children and Young adult Literature; linguistic criteria; interdisciplinary activity; curricular teaching.
Pagination: 79-89
Title: GRAMMATIKPROGRESSION IN DAF-LEHRBÜCHERN ENDE DES 19. UND ANFANG DES 21. JAHRHUNDERTS
English Title: GRAMMATICAL PROGRESSION IN TEXTBOOKS OF GERMAN AS A FOREIGN LANGUAGE AT THE END OF THE 19TH AND THE BEGINNING OF THE 21ST CENTURY
Author(s): Radanović Sanja
Abstract: Learning grammar is a significant part of foreign language teaching. Grammar is an area without which one cannot imagine learning and teaching foreign languages. Despite that, grammar had a different position in different didactic-methodological concepts. The 19th century was marked by the grammar-translation method, and the end of the 20th and the beginning of the 21st century by the communicative method. The very name of these methods clearly indicates the educational goal of teaching foreign languages ​​in these periods. In the grammar-translation method, the focus was on grammar and it played a leading role, while the goal of the communicative method is to enable students to communicate and cope in real communicative situations. In this method, grammar plays a subordinate role and represents a means to an end.  Thanks to that, the arrangement of grammar material in textbooks is also adjusted to the educational goals of foreign language teaching. This paper analyses selected textbooks of German as a foreign language that were used in Bosnian-Herzegovinian schools at the end of the 19th and the beginning of the 21st century. The aim is to determine the grammatical progression in these textbooks, i.e. which grammatical structures are selected and presented, how they are arranged, and what types of progressions are present.
Keywords: grammatical progression; grammar-translation method; communicative method; textbooks of German as a foreign language; type of progression.
Pagination: 91-100
Title: JING ZENG: SPRACHLERNSPIELE IM DaF-UNTERRICHT IN DER VR CHINA. MÖGLICHKEITEN UND HERAUSFORDERUNGEN IHRES EINSATZES IN UNIVERSITÄTEN
English Title: JING ZENG: LINGUISTIC GAMES IN TEACHING GERMAN AS A FOREIGN LANGUAGE IN PR CHINA. OPPORTUNITIES AND CHALLENGES IN THEIR IMPLEMENTATION AT UNIVERSITIES
Author(s): Andrea Hamburg
Abstract: Rezension / Book Review
Pagination: 101-106
Title: EVA WILDEN / HENNING ROSSA (Hrsg.) FREMDSPRACHENFORSCHUNG ALS INTERDISZIPLINÄRES PROJEKT
English Title: EVA WILDEN / HENNING ROSSA (Editors) SECOND LANGUAGE RESEARCH – AN INTERDISCIPLINARY PROJECT
Author(s): Andrea Hamburg
Abstract: Rezension / Book Review
Pagination: 107-112
Title: CONSIDERATIONS ON 'GOOD DATA IN BUSINESS AND PROFESSIONAL DISCOURSE RESEARCH AND TEACHING'
Author(s): Ioana Claudia Horea, Cristian Dorin Horea
Abstract: Book Review
Pagination: 113-118