9th Issue – March 2022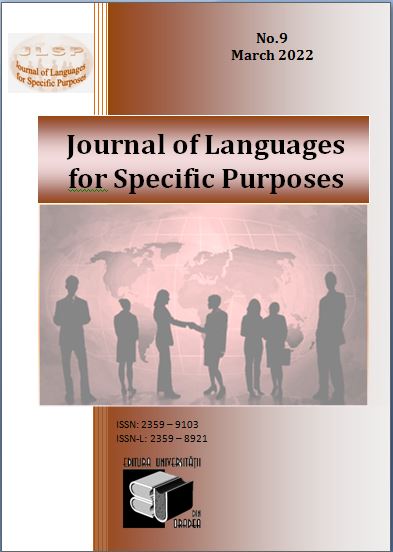 Full volume of The Journal of Languages for Specific Purposes (JLSP) – 9th Issue – March 2022
Title: LANGUAGE+1: A CURRICULUM DESIGN AND IMPLEMENTATION FOR BUSINESS CHINESE
Author(s): Amily Guenier, Jinghui Wang, Minjie Xing
Abstract: Recently, more and more Chinese language learners not only learn the language but also use the language to learn an additional subject (language+1) and therefore a curriculum of Chinese for Specific Purposes is needed. This study explores the theory and practice for such a curriculum starting with Business Chinese (BC). The research methods include a Needs Analyses survey at the beginning of the study, thirty-six hours of class observations during the study, and a National Student Survey (NSS) at the end of the study. To triangulate the quantitative data, a focus-group interview is conducted for a deeper understanding of students' attitudes towards and insights on the curriculum. The study is carried out at University of Manchester, UK with 72 Chinese-majored degree students. A curriculum design committee consisting of professionals, graduate entrepreneurs, subject lecturers, language tutors and current student representatives is set up for designing, implementing and monitoring the curriculum. The Content and Language Integrated Learning (CLIL) approach is employed for students to learn the subject knowledge while practising the language. The subject knowledge is introduced via lectures and discussed at seminars; business content is practised by students setting up and running their own companies, virtual or real; and language skills are trained via presenting their companies to potential clients and customers, negotiating with counterparts and by writing business reports etc. The NSS results with 100% satisfaction rate show students' positive attitudes towards the curriculum, and students welcome the curriculum in that they are learning BC by running their own business and that during the process, they apply the subject knowledge into their own companies and the target language is used throughout the process. By managing their own companies, they go through business procedures, develop related knowledge and skills, share ideas with peers and obtain practical advice from professionals. Students appreciate the engagement and empowerment by running their own companies. This curriculum model can be suggested as a framework for those who are to design and develop curriculum for language for specific purposes.
Keywords: needs analysis; Business Chinese; Chinese for specific purposes, CLIL, Language +1.
Pagination: 9-21
Title: TWO IN ONE: INCORPORATING COVID-19 RESEARCH INTO THE ENGLISH FOR MEDICAL PURPOSES CLASS TO IMPROVE THE 4+1 LANGUAGE SKILLS
Author(s): Timea Németh, Annamária Sütő, Balázs Sütő, Gabriella Hild
Abstract: While the COVID-19 pandemic continues to make a profound impact on all aspects of life around the world, from the perspective of medical education it is also an opportunity not only a threat, and can be integrated into the medical curriculum, including English for Medical Purposes classes. The aim of this paper is to share our experience regarding the integration of a research study on the willingness of young people to get the COVID-19 vaccine into an English for Medical Purposes class. Student interviews, presentations, Think-Pair-Share activities and disputes in class are special pedagogical and methodological tools that assist the teaching and the learning process. As a result, students are inspired and engaged, which facilitate the development of not only their 4+1 language skills, and medical English proficiency, but also their collaboration, communication, and problem-solving skills, as well as their creativity and critical-thinking. This paper seeks to inform and inspire English for Medical Purposes teachers to incorporate meaningful and intellectually stimulating research studies into their classes that allow students to not only learn medical English, but more importantly, to understand complex perspectives, use numerous forms of media, and collaborate with others. Therefore, the authors suggest that teachers of English for Medical Purposes create room in their classes for up-to-date research representation in order to engage and motivate students' learning process. Furthermore, the authors believe that the latest research studies, presentations, Think-Pair-Share activities and disputes can be implemented in any content and language integrated classes, as well as languages for specific purposes classes, thus providing educators with effective tools to achieve broad educational goals,

Keywords: COVID-19 research; English for Medical Purposes, Languages for Specific Purposes; 4+1 language skills.
Pagination: 23-35
Title: GRAMMATICAL COHESION IN FRENCH JOURNAL ABSTRACTS AND THEIR ENGLISH EQUIVALENCE
Author(s): Benjamin Amoakohene, Richard Senyo Kofi Kwakye, Osei Yaw Akoto
Abstract: As one of the key sub-genres in academic discourse, the research article's abstract, has attracted the attention of scholars within the linguistics and applied linguistics literature. This has led to the upsurge in studies that have explored this all-important genre, with different analytical lenses and focuses. Dominant among these studies are those that have explored connectivity in the abstracts of research articles. However, the literature reveals a dearth of studies on the use of cohesive devices in source and target languages, specifically those written in French and their translated versions in English. This study therefore explored grammatical cohesion in research article abstracts written in French and English. The study specifically did a contrastive analysis of the types, frequency and functions of grammatical cohesive devices in these two sub-corpora. In all, a total of 40 research article abstracts formed the corpus of the study; twenty of these taken from erudit.org and another twenty taking from persee.org. Halliday and Hasan's (1976) cohesive theory was used as the framework to analyse instances of grammatical cohesive devices in the abstracts written in the source language – French – and their translated versions in the target language – English. The findings showed that the French corpus tend to use a slightly higher number of cohesive devices than their English counterparts. It was also found that the most dominant grammatical cohesive device within the two sub-corpora were references, which were in turn dominated by personal references, followed by demonstrative and comparative references. Next were the conjunctive devices which were also dominated by additive (especially et, and its English equivalent, and), temporal, causative, and adversative conjuncts in that order. The least used cohesive devices in each of the two sub-corpora were ellipsis and substitution. The findings add to the ongoing debate on how the act of translating a text in a source language to a target language affects the use of cohesive devices, especially, grammatical cohesive devices.
Keywords: Cohesion; Contrastive Rhetoric; Translation; Translation Studies; Texture.
Pagination: 37-54
Title: A MULTIDISCIPLINARY APPROACH: TEACHING MEDICAL SPANISH TO MEDICAL STUDENTS USING ROLE-PLAY
Author(s): Khashayar Mozaffari, Rebecca Kolodner, Yagiz Akiska, Benjamin Blatt
Abstract: The Hispanic community is the most rapidly growing minority group in the United States, making up 18.3% of the population, with 40% reporting limited English proficiency. To address this need, many health sciences institutions have implemented medical Spanish courses to increase Spanish proficiency among future health care providers. Although interactive courses have shown efficacy in teaching field-related terminology, barriers to medical Spanish curriculum implementation persist. Our non-randomized experimental pilot study aims to investigate the benefit of role-play in a medical Spanish course. Nineteen second-year medical students were recruited to participate. Based on their placement test performance, students were assigned to a beginner or intermediate group, and met weekly for one-hour sessions over five consecutive weeks. Students assumed the roles of Spanish-speaking patient, English-speaking provider, and interpreter to practice various medical scenarios. Students completed pre- and post-course examinations to assess Spanish proficiency improvement. A p-value <0.05 was considered statistically significant. Seven students, all members of the intermediate group, completed the course. Class attendance among this group was 77.4%. When comparing examination scores, there was statistically significant improvement in oral translation of phrases from Spanish to English (p=0.03).Statistically significant improvement in oral translation of phrases from Spanish to English was accomplished through a minimal time requirement of one hour per week utilizing role-play. Given that limited time poses a barrier to implementing medical Spanish curricula, our findings highlight the potential benefit of this teaching methodology with a special emphasis on the under-utilized yet promising modality of role-play and call for its further evaluation.Furthermore, our study demonstrates the necessity of implementing medical Spanish course as an accredited class in medical schools to encourage student participation, which would provide legitimacy to the curriculum as the need for Spanish-speaking doctors increases with the rising Hispanic population in the US.
Keywords: medical Spanish; medical education; role-play; medical school curriculum; medical student.
Pagination: 55-65
Title: MULTILINGUALISM AND ITS PURPOSES – INTERDISCIPLINARY APPLICATIONS IN LANGUAGE EDUCATION AND ADVOCACY
Author(s): Kathleen Stein-Smith
Abstract: Within the context of multilingualism as a tool, this article will examine the benefits and uses of languages by individuals, within organizations, and in our lives as citizens, both locally and globally. Viewed through the lens of the social, global, and economic value proposition for languages, the significance of purpose in developing sustainable language learning and multilingualism will be highlighted, along with the necessity of linking language learning and the purpose of multilingualism in curriculum, experiential learning activities, and in a variety of organizational settings. The linkage of motivation and a sense of purpose in supporting both interest in language learning and successful learning outcome is explored. In order to achieve this goal of sustainable language learning and multilingualism, the importance of an early start to language learning, of immersion programs, of appropriate pre-professional curriculum, and of flexible workplace learning will be discussed, as well as – most importantly – the role of heritage languages. Central to the discussion is the concept of accessibility, which includes both affordability and the available of online, hybrid, and flexible learning opportunities for learners of all ages. In conclusion, the role of language advocacy is essential in ensuring that the conversation on language learning remains focused on multilingualism as a tool for personal empowerment, communication within our multilingual society, organizational success, and effective global communication even in times of crisis. It is essential to focus consistent attention to the nature and diversity of purposes among current and potential language learners.
Keywords: purpose; motivation;values; language learning;multilingualism.
Pagination: 67-79
Title: ASPECTS OF SATISFACTION WITH LSP TEACHING IN HIGHER EDUCATION
Author(s): János Farkas, Mária Czellér, Ildikó Tar

Abstract: This article discusses a questionnaire research carried out in order to collect information regarding the issue of student satisfaction within the context of Language for Specific Purposes (ESP) course. The data were collected through an online, self-completed, voluntary, anonymous EvaSys questionnaire. The students requested to complete the questionnaires covered a wide range of economic/business disciplines. The target population of students studying in economic/business disciplines was the following: economics-management, finance and accounting, banking and finance, tourism and catering, international relations, commerce. The aim of the research was to look into the satisfaction of students with teaching language with business purposes. The quantitative results of student satisfaction with LSP teaching revealed that the students of business and economics at Hungarian universities are satisfied with the executive, technical and learning environment. The descriptive statistical analyses have shown that the field of economics has become more feminised. Female students find it more challenging to complete courses than male students and students living in cities find it easier to complete language courses than students living in villages. Students think their skills are improving more than average during the courses. Male students rated their skills development as a small percentage better than female students. Both female and male students considered the number of contact hours sufficient. No large percentage differences were found in the satisfaction of students with their teachers' work, depending on the educational level of the parents.
Keywords: student satisfaction; higher education; social variables; descriptive statistics; questionnaire survey.
Pagination: 81-95
Title: HOW TO MEET THE REQUIREMENTS OF ORGANISATIONS FOR FOREIGN LANGUAGE SKILLS AND INTERCULTURAL COMMUNICATION COMPETENCIES BASED ON INTERVIEWS WITH LSP TEACHERS AT THE UNIVERSITY OF DEBRECEN
Author(s): Tímea Lázár, Zita Hajdu
Abstract: Globalisation and internationalisation have caused enormous changes in several fields of life all over the world, with significant transitions in Hungary. The emergence of multinational companies has remarkably affected the labour market. These companies increasingly require intercultural communication competencies and a high level of foreign language skills from graduate entrants. The primary responsibility of universities is to educate and prepare students for a new environment and expectations in the international labour market. Although intercultural communication and foreign language skills have become key competencies in the labour market, recent graduates' levels in these competencies do not meet the requirements of organisations. The importance of the topic is significant since it would be the common interest of universities, students, and organisations to have more and more employees with excellent language competencies who can perform well in a diverse, multicultural environment. The main goal of this paper is to detect the roots of the problem in tertiary education and define some proposals for improving the quality of university training, based on the recommendations of LSP (Languages for Specific Purposes) teachers at the University of Debrecen. Furthermore, another fundamental goal of the research was to get LSP teachers' opinions on issues pertaining to meeting or missing the needs of organisations. We conducted semi-structured interviews with 12 LSP teachers at the University of Debrecen. According to the results, the main problem at the university is that students who enrol in the foreign language training programmes of the university do not possess the necessary level of general foreign language knowledge to learn languages for specific purposes. If the students' prior foreign language skills are not sufficient, the number of foreign language lessons available is not enough for students to acquire a high level of LSP proficiency. LSP teachers also missed the intercultural competency component of language programs. Several suggestions were made by LSP teachers to improve the situation, but above all, ongoing dialogues between educational institutions and employers were emphasised upon. Further stages of the research include employers' demands, and we are also planning to involve LSP teachers of other universities.
Keywords: intercultural communication competencies; internationalisation of higher education; labour market requirements; multinational companies; foreign language knowledge; languages for specific purposes.
Pagination: 97-107
Title: SPRACHEINSTELLUNGEN IM MIGRATIONSKONTEXT – AM BEISPIEL DES ALBANISCHEN UND DEUTSCHEN
English Title: LANGUAGE ATTITUDES IN THE MIGRATION CONTEXT – THE EXAMPLE OF ALBANIAN AND GERMAN
Author(s): Naxhi Selimi
Abstract: The article provides insights into the language situation of the three-generation (G1-G3) Albanian language group (n=120) in Germany and Switzerland and presents their attitudes towards varieties of both languages (Albanian-German). According to the results, the respondents are positively disposed towards both languages and attach a high value to them. Standard German achieves the highest values, while dialects of this language come last in the ranking. The results also show that respondents in Switzerland deal with diglossia more openly and are thus better anchored in Swiss society than the Albanian group in Germany. Finally, our data show that most respondents see their future in Germany and Switzerland and that there is no significant correlation between language attitudes and future career prospects.
Keywords: language attitudes; language contact; language varieties; language behaviour; Albanian dialects.
Pagination: 109-125
Title: DIE SPRECHHANDLUNG 'AUFFORDERUNG' BEI DEN ALBANISCHSPRACHIGEN DEUTSCHLERNENDEN
English Title: THE SPEECH ACT REQUEST IN ALBANIAN FOREIGN LANGUAGE LEARNERS
Author(s): Vjollca Aliu, Gzim Xhaferri, Biljana Ivanovska
Abstract: The most interesting and extensive linguistics theory is the theory of speech acts. It emphasizes the character of the action of utterances and makes it clear that description of linguistic formulations is not possible without performing actions. The development of pragmatic competence is particularly difficult for learners, when the foreign language is learned in an environment, where it does not serve daily communication and learners do not receive sustainable input that enables them to apply their knowledge of pragmatic competence in practice. In addition, there is a lack of valid requirements regarding the communicative competencies of the Albanian learners of German: In foreign language teaching, there are few curricula that focus on communicative skills, and there is a significant need for effective ways of improving learners' communication skills. The aim of this paper is to present and analyze the research of pragmatic competence and its components with foreign language students. In constructing the speech of the request, we refer to the contributions and investigations of Blum-Kulka & Olshtain (1984), Economidou-Kogetsidis & Woodfield (2012), Olshtain & Cohen (1990), Wunderlich (1979), Searle (1975), and others. The data of this research that were gathered and analyzed, as well as the instruments and methods used, are presented in this paper, too.
Keywords: speech-acts, request, pragmatics, foreign language learners.
Pagination: 127-138
Title: DIE KOMMUNIKATIVE FUNKTION VON TIERMETAPHERN ALS ERZEUGER DES HUMORS IN DEN DEUTSCHEN ÜBERSETZUNGEN EINIGER POIROT-ROMANE
English Title: THE COMMUNICATIVE FUNCTION OF ANIMAL METAPHORS AS GENERATORS OF HUMOR IN THE GERMAN TRANSLATIONS OF POIROT-NOVELS
Author(s): Anita Andrea Széll
Abstract: Many of Agatha Christie's crime novels contain nursery rhymes that serve as a guide to the content of the entire story. HerculePoirot and Miss Jane Marple, Agatha Christie's most famous detectives, can often reveal the culprit in the novel with the help of a parallel between these nursery rhymes and real life. These nursery rhymes are not always easy to decipher in the context of the story, because they work, among others, with such tropes, which are stylistically classified as animal metaphors. These can help the readers to decipher the secret of the novel. It is always a challenge for researchers to interpret these animal metaphors and determine their role in the text. This article sets out to examine the communicative function of these animal metaphors in the German translation of some of Poirot's novels and to determine how these animal metaphors contribute to the specific humor of Agatha Christie. The purpose of this research is not only a simple determination of the function of metaphors in each text, but also an attempt at interdisciplinary analysis that links linguistics and literary studies and interprets them as a philological whole.
Keywords: Metaphor, Communication, Humour, Irony, Translation, Poirot.
Pagination: 139-155
Title: MEDIZINISCHE FACHSPRACHE UNGARISCH FÜR AUSLÄNDISCHE MEDIZINSTUDIERENDE – ERGEBNISSE EINES FRAGEBOGENS ZUR EVALUIERUNG DES UNTERRICHTSKONZEPTES
English Title: HUNGARIAN FOR MEDICAL PURPOSES FOR INTERNATIONAL STUDENTS – RESULTS OF A QUESTIONNAIRE FOR THE EVALUATION OF THE TEACHING METHODOLOGY
Author(s): Renáta Halász, Anita Sárkányné-Lőrinc, Rita Kránicz, Anikó Hambuch
Abstract: At the Medical Faculty of the University of Pécs, Hungary, several hundreds of foreign students from more than 50 countries around the world are studying medicine in English and German. The largest group is made up of students with German as their mother tongue. Like the native Hungarian students, these students receive clinical teaching according to the concept of bedside teaching from the 5th semester onwards, i.e. they will have interactions with Hungarian patients. This presupposes knowledge of Hungarian, which enables a successful interaction with them in the professional situation. The educational objective must be achieved with students who may not be motivated to learn the Hungarian language. Learning subjects is also a heavy burden for medical students. In recent years, we have strived to teach the Hungarian medical language as effectively as possible in the given teaching and learning environment, to prepare students for clinical patient encounters. After adapting the language teaching to the needs of the students and the given circumstances, we wanted to know what the students think about Hungarian and Hungarian teaching. Do they perceive the content and methods of teaching as intended? A questionnaire survey was conducted with 134 medical students to find out how satisfied the students are with the content and methods of Hungarian language teaching and examination, what their motivation is for learning Hungarian, and how much time they devote to learning. Their opinion has been interrogated regarding to what they think is good about teaching, what they would change and what other suggestions they have. An important question was whether the students would like to learn something other than the language for special purposes with clinical content, and to what extent they are involved in the mother tongue environment. Our study announces the results of the survey including the students' responses that can help improve Hungarian language teaching.
Keywords: Hungarian for medical purposes; medical studies abroad; needs analysis; evaluation of teaching methodology of Hungarian for medical purposes; medical students communication; Hungarian as a language of doctor-patient interaction.
Pagination: 157-174
Title: "ICH WEISS ES NICHT": MENTALISIERUNGSFÄHIGKEITEN UND SPRACHE BEI PATIENTINNEN MIT PSYCHISCHEN STÖRUNGEN
English Title: "I DON'T KNOW": MENTALISATION SKILLS AND LANGUAGE IN PATIENTS WITH MENTAL DISORDERS
Author(s): Csilla Egyed, Judit Fekete, Róbert Herold, Anikó Hambuch
Abstract: According to the WHO, one in four people are affected by some form of mental disorder, including schizophrenia. In schizophrenia, disorganised speech is a leading cognitive symptom. As language can be considered as a reflection of thoughts, the analysis of the language of individuals with schizophrenia can provide useful insights into the mentalising abilities of these patients. Mentalising skills, mind-reading or mentalisation, known in psychiatry as Theory of Mind (ToM), refers to the ability and skill to conceptualise other people's mental states and thus explain and predict their behaviour. The nature of patients' linguistic dysfunction can be detected during different mentalising processes. In our paper we present the first results of a study that, as part of an interdisciplinary research project, investigates the mentalising abilities of schizophrenic patients from the perspective of language and communication. The primary aim of the present functional linguistic study is to describe and classify typical and recurrent linguistic patterns of patients with schizophrenia that are related to their mentalising capacities. The case study focuses on the use and different functions of the negative epistemic construction "I don't know" in interviews with patients in the Psychiatric Hospital of the University of Pécs. The research corpus of the case study comprises 20 structured patient interviews, which were digitally recorded and transcribed. The quantitative analysis of the corpus was conducted using Sketch Engine software. The qualitative analysis focused on the form, interactional structure and functions of "I don't know". The results show two forms, but at the same time a diverse syntactic and sequential embedding of the construction. On the discourse level, "I don't know" could be assigned several functions, from literal meaning to the expression of uncertainty and avoidance strategies. The results related to "I don't know" could help adequately interpret linguistic expressions associated with mental states by gaining insight into patients' language use in more detailed pragmatic terms, thus increasing the therapeutic success.
Keywords: schizophrenic speech, theory of mind, negative epistemic construction, pragmatics, conversation analysis.
Pagination: 175-189
Title: ARND WITTE / THEO HARDEN (Editors) RETHINKING INTERCULTURAL COMPETENCE: THEORETICAL CHALLENGES AND PRACTICAL ISSUES
Author(s): Andrea Hamburg
Abstract: Book Review
Keywords: Book Review
Pagination: 191-195
Title: RUGGIERO'S SENSIBLE APPROACH ON 'TEACHING WORLD LANGUAGES FOR SPECIFIC PURPOSES'
Author(s): Ioana Claudia Horea
Abstract: Book Review
Keywords: Book Review
Pagination: 197-202